Nothing Like the Sun screenplay - post author Don
Thanks to N. Nguyen for the heads up on the screenplay to his film, Nothing Like The Sun that is making the festival circuit and will be release early part of 2018. Also, check out Horsehead Cinema for background info on the film.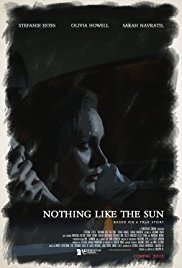 Nothing Like The Sun – April 9, 2016 final shooting draft script by Nguyen Nguyen & Steven J. Morrison (based on "Misfit Affection: The Strange Case of Alice Mitchell and Freda Ward" printed July 19, 1892 by the Aurora Daily Express) – hosted by: Horsehead Cinema – in pdf format
In the mid-20th century, a lesbian estranged by her family struggles to get them back by falsely adopting the faith of a Christian household where she takes shelter, but finds herself infatuated with their daughter.
Information courtesy of imdb.com