Wonder Woman – Unproduced script by Laeta Kalogridis - post author Don
Stephen Batchelor has another interesting article on and a copy of the unproduced screenplay Wonder Woman written by Laeta Kalogridis. You can find it on Stephen's blog.
A Wonder Woman film of some sort has been bouncing around various directors and writers for decades. Studios seem to want to make one, but no one seems to be able to get one off the ground… read more on Stephen's blog.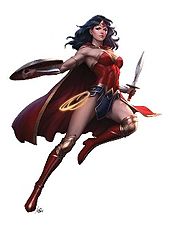 Wonder Woman – August 26, 2004 unproduced, fourth draft script by Laeta Kalogridis – hosted by: Stephen Batchelor – Screenwriter – in pdf format
The demi-godess Diana has to stop her vicious father Ares from obtaining an ancient artifact, that could plunge the whole world into an eternal war.
check out Wonder Woman script review
Information courtesy of Wikipedia
Check out more scripts on the Movie Scripts page.