Forget-Me-Not – Short Script Review (Available for Production) - post author KP Mackie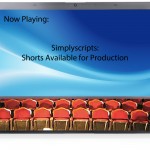 Forget-Me-Not
"A troubled inner city youth liberates a forgotten community garden, unlocking a magic that reconnects his neighbors with their lost loved ones."
When you think about it, every story at its heart is drama. By their very nature, they require a dramatic force to keep their audience's attention: characters struggle – clash against others, providing conflict. Ebb and flow. Back and forth. There's a rhythm to telling a riveting tale – no matter the supposed "genre."
Pulitzer Prize winning journalist/author Anna Quindlen once wrote "Every story has already been told." If so – how do you make YOUR drama unique? One method is to swirl additional genres into the mix. Do it right, and you'll have a winning recipe on your hands!
And that's the appeal of Steven Dexheimer's inner-city story, Forget-Me-Not. On the surface, it's a drama about troubled 16-year old Michael who lives in the tenements. His four friends aren't exactly a gang, but peer pressure's a powerful force on the street. Michael wants to fit in, but he's got an interest far outside their sphere; he's been spotted in the neighborhood community garden with Mrs. Friedman, an elderly lady who's as far away from "ghetto" as one can be (at least outside of Ikea).
When Mrs. Friedman falls ill, paramedics load her into an ambulance. A nosy neighbor recognizes Michael as a frequent visitor to the garden, and starts asking him questions. In front of his friends.
Michael visits Mrs. Friedman in the hospital. She asks him a favor; care for the garden while she's away. A good kid, Michael does what he can… but falls afoul of his old gang, who take a dim view of Michael's new "hobby." As the garden grows, so does the animosity – forcing Michael to choose between new allegiances and old, in a world where very few good things grow….
What makes Forget Me Not a stand-out script? Let's pluck those petals and count the ways:
Friendship (and a touch of lost romance): Mrs. Friedman's love for her dear departed "Stanley" (symbolized by the blue flowers she nutures in the garden), and the bond that forms between her and the teen.
Crime: A gritty inner city setting – depicting "thug life" and its very real consequences.
Fantasy: Though "rooted" in reality, something magical happens in the community garden. Affecting far more than the flowers…
Poignantly written, Forget Me Not weaves these themes together seamlessly – creating a fresh story of hope, community and friendship. If you're a director looking for a story with substance, then F-M-N should be directly in your line of sight. Visually compelling with dramatic impact. You'd better act now – before this one's off the market…!
About the writer:Steven was a finalist in the coWrite competition, an innovative community-sourced screenplay developed in association with respected production company Benderspink (A History of Violence, The Butterfly Effect). He also took 1st Place honors in the March 2009 MoviePoet short script competition.
Steven is a member of Writer's Boot Camp, was a finalist in the 2008 The Movie Deal screenplay competition and has twice been a finalist in the NYC Midnight Screenwriting Competition (2007 & 2008). He holds a Bachelors degree in Theater and an Associate degree in Film/Video Production. More of Steven's work may be found at his website: www.StevenDexheimer.com (email: Steven "AT" 8mdFilms.com)
Pages: 14 pages
Budget: Moderate, but not pricey. And definitely worth the investment. An establishing shot may be enough to set up the inner city neighborhood, hospital, and high school. An actual or imitation hospital room, classroom and bedroom shouldn't take much of a bite from the budget. Almost an ensemble piece, there are several main characters – all likely coveted roles – plus some extras to act as neighbors. But get yourself a good garden. Because it's a star of this show, as well.
About the reviewer for Forget-Me-Not:California uber reader/reviewer KP Mackie is working hard on her animated feature. KP's work is available at moviepoet.com!
READ THE SCRIPT HERE – AND DON'T FORGET TO COMMENT!!
FOR YET MORE SCRIPTS AVAILABLE FOR PRODUCTION:
PLEASE SEARCH SIMPLYSCRIPTS.COM 
OR THE BLOG VERSION OF STS HERE.
All screenplays are copyrighted to their respective authors. All rights reserved. The screenplays may not be used without the expressed written permission of the author.