Wide O – Short Script Review (Available for Production) - post author KP Mackie
---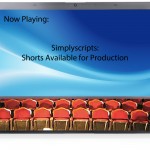 Wide O
Lock your doors.
Anticipation is vital to horror stories. Remember how you felt watching Marion step into the shower in Psycho, Brody toss chum off the boat in Jaws, or bag boy Norm walk outside the supermarket in The Mist? That little niggle inside telling you that something doesn't feel quite right. Something's about to happen. Like a coiled rattlesnake ready to strike!
In the short script Wide O, that uneasy feeling is present as well – from the moment Ms. All American Mom shuts off a news program, being watched by her two pajama-clad youngsters. It's a story about a brutal suburban massacre. Definitely unfit for innocent eyes.
The kids protest the action. They can't sleep – it's too cold. Mom realizes the house is drafty, and promises to make them hot chocolate. She heads to the kitchen, and discovers the source of that chill…
In most horrors these days, the violence slaps audiences in the face. Wide O is bloodless. But supremely effective: a little one page gem that nurses that itch of terror inside you – making the hairs stand up on the back of your neck…
Horror directors take note: Wide O's not likely to be on the market long. No blood, no mess. One location. Just an intelligent script with a strong ending. Best to snap it up before it's gone.
About the writer: Robert Newcomer recently received his first IMDB credit for another short, Them That's Dead.  An intelligent writer, he has several other shorts and a horror feature length available for consideration. (IMDB credits listed here.) Other shorts of Robert's (both horror) reviewed at STS include:
Pages: 1
Budget: Extremely low. A living room and kitchen's all you need. And a handful of actors (including extras for the "news" broadcast.)
About the Reviewer: California über reader/reviewer KP Mackie is working hard on her animated feature. KP's work is available at moviepoet.com!
READ THE SCRIPT HERE – AND DON'T FORGET TO COMMENT!!
FOR YET MORE SCRIPTS AVAILABLE FOR PRODUCTION:
PLEASE SEARCH SIMPLYSCRIPTS.COM
OR THE BLOG VERSION OF STS HERE.
All screenplays are copyrighted to their respective authors. All rights reserved. The screenplays may not be used without the expressed written permission of the author.