The Buyer – Short Script Review (Available for Production) - post author The Merrows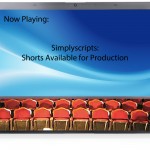 The Buyer
When it comes to empty houses, sometimes buyers should beware….
As Rod Serling used to say each week, "You unlock this door with the key of imagination." And so it is with the best of scripts. Before you begin reading this one, take a moment, close your eyes, and imagine the theme music from The Twilight Zone. Then (after a short commercial break) start reading, because this story is definitely Serling-esque. In the best possible way.
It all begins in a picture-perfect living room, with dust gently drifting through rays of sunshine. Two women – one a realtor, the other a prospective buyer – move slowly through the space. There's subtle tension in the air…
…and an eerie dynamic lurking just outside our awareness, involving the two women and the house. Stay alert to pick up details. Why does the cell phone signal fail at certain times? Whose overturned picture lies on the shelf? Most importantly, who (or what) is the mysterious woman seen briefly in the hallways?
Could it be a ghost? We'll never tell. But we will paint a picture for you. Imagine The Others meets The Uninvited. Weaved together with poetic skill.
If you're in search of a low-budget spine tingler with a humdinger of a twist, this script could be what you're looking for. One location – an empty house. All interior. No special effects. And meaty roles for three 30-something actresses. What more could a director ask for?
About the writer: I've been writing for about four years now. I always loved it but managed to get constantly side-tracked by silly things like: finding a real job, getting married, having kids, a mortgage… I finally decided to stop making excuses (not completely) and write "for real". I made it to the quarter-finals of the Nicholls Fellowship last year, the semi-finals of the Screencraft Fellowship earlier this year, and am currently in the finals of the Industry Insider competition featuring Sheldon Turner. I'm still pretty wet behind the ears, but for the first time in a long time, I actually refer to myself as a writer. I can always be reached at kostak "AT" kostak.com
Pages: 7
Budget: Very affordable. One house, three actresses – and you're set.
About the reviewer: Scott Merrow co-writes screenplays with his wife Paula. Since 2006, they've written over 50 short screenplays, several of which have been produced. They tend toward family-friendly scripts, but they've written a little bit of everything: horror, fantasy, sci-fi, comedy… the whole nine yards.
READ THE SCRIPT HERE – AND DON'T FORGET TO COMMENT!!
FOR YET MORE SCRIPTS AVAILABLE FOR PRODUCTION:
PLEASE SEARCH SIMPLYSCRIPTS.COM 
OR THE BLOG VERSION OF STS HERE.
All screenplays are copyrighted to their respective authors. All rights reserved. The screenplays may not be used without the expressed written permission of the author.