Thicker Than Water – Short Script Review (Optioned!) - post author KP Mackie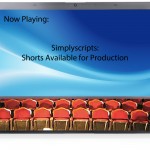 Thicker Than Water
"A successful drug dealer gets the shock of her life when her estranged younger sister shows up."
Anyone who's got a sister or brother knows it's a given — an unwritten rule that you love them. Or at least you like them. A little bit. That's how it's supposed to be anyway… Interactions with siblings can be complicated. More likely than not, your mutual feelings probably run the gamut on a daily basis – somewhere between undying love and hate. (Don't worry… we won't tell your sister.)
But in MJ Hermanny's award-winning drama Thicker Than Water, there's more at stake than a few conflicted feelings.
It's after midnight when the buzzer sounds at Trina's plush London penthouse, and she's stunned to hear Cassie's voice, her younger sister. Trina hesitates at first; she and Cassie have been estranged for six years. Besides, Trina's busy… counting the money from her drug business. But she hides the loot and lets Cassie in.
You can cut the tension with a knife as the two struggle to find common ground. Trina's fancy surroundings are no longer a lure for Cassie. She's been there, done that – and gotten out. And she wants the same for Trina. Well, actually, she demands it. Using her Metropolitan Police badge as leverage.
Trina challenges Cassie, "You wouldn't bust your own sister!" The unwritten rule hangs thick in the air. Sisters are supposed to have each other's back. Aren't they?
Will Cassie succeed in changing Trina's path? Or are these sisters heading for a showdown that makes sibling rivalry look like child's play?
Similar to movies like August: Osage County, Rachel Getting Married and In Her Shoes, the relationship in TTW is intensely relatable. Simple to film, TTW delivers a compelling story with two strong female characters. So grab this one now — it won't last long!
About the writer: Boasting an MA in Scriptwriting for Film, Theatre, TV & Radio, MJ is an award winning writer, with shorts optioned and produced in countries as diverse as Croatia and Norway. Residing in sunny England, she is currently hard at work developing a series with the BBC Writersroom – as well as working on a number of features (including one low-budget horror and a fantasy adventure script.) Her website is available here: redcatwriter.wordpress.com/. MJ herself can be reached via mjhermanny – AT – gmail!
Pages: 4
Budget: Low. Only two characters and one room. This story's an easy shoot – with an up close and personal feel.
About the reviewer for "Thicker Than Water": California uber reader/reviewer KP Mackie is working hard on her animated feature. KP's work is available at moviepoet.com!
READ THE SCRIPT HERE – AND DON'T FORGET TO COMMENT!!
FOR YET MORE SCRIPTS AVAILABLE FOR PRODUCTION:
PLEASE SEARCH SIMPLYSCRIPTS.COM 
OR THE BLOG VERSION OF STS HERE.
All screenplays are copyrighted to their respective authors. All rights reserved. The screenplays may not be used without the expressed written permission of the author.