Dr. Strange screenplay - post author Don
The Stephen Batchelor Script of the Week is Dr. Strange.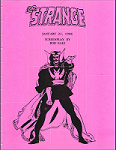 Dr. Strange – January 21, 1986 unspecified draft script by Bob Gale – hosted by: Stephen Batchelor – in pdf format
Stephen Strange is a brilliant but egotistical neurosurgeon who only cares about wealth from his career. However, a car accident damages his hands, shattering the bones. The damage effectively ends his ability to conduct surgery, since his hands now tremble uncontrollably. Too proud to take on a teaching job, Strange desperately begins to search for a way to restore his hands, consulting various doctors, homeopathic treatments and traveling around the world to remote regions for exotic cures, all to no avail.
Information courtesy of wikipedia