Gosford Park screenplay - post author Don
Thanks Lisa for the heads up on this.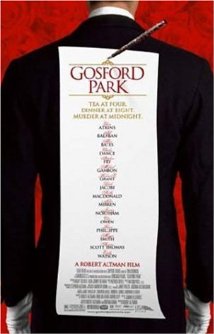 Gosford Park – February 20, 2001 revised shooting script by Julian Fellowes (based on an idea by Robert Altman & Bob Balaban) – hosted by: Wisconsin Screenwriters Forum – in pdf format
Set in the 1930's the story takes place in an old fashioned English country house where a family has invited many of their friends up for a weekend shooting party. The story centers around the McCordle family, particularly the man of the house, William McCordle. Getting on in years William has become benefactor to many of his relatives and friends. As the weekend goes on and secrets are revealed, it seems everyone, above stairs and below, wants a piece of William and his money, but how far will they go to get it…?
Information courtesy of imdb.com
There are more on the Movie Scripts page.