Another Saturday Night – produced! - post author Don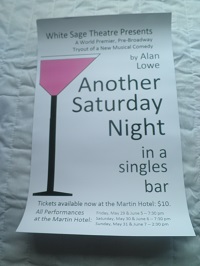 Congratulations to Alan Lowe whose work Another Saturday Night was performed at the Martin Hotel in Winnemucca, Nevada by the White Sage Theatre. It was the World Premiere with a view to it going "Off Broadway" and then possibly to Broadway itself. It was produced by Mr John Matlock.
Another Saturday Night ((Play, Musical – 97 pages, doc format) by Alan Lowe – A Musical set in a Singles Bar involving three four women and four men.