Let Me In screenplay - post author Don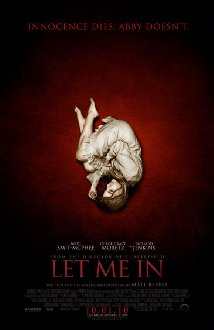 Let Me In – February 2, 2009 first draft script by Matt Reeves (based on the novel by John Ajvide Lindqvist) – hosted by: Horrorlair – in pdf format
A twelve year-old Owen is a lonely and outcast boy bullied in school by Kenny and two other classmates; at home, Owen dreams of avenging himself against the trio of bullies. He befriends his twelve-year-old next door neighbor, Abby, who only appears during the night in the playground of their building. Meanwhile, Abby's father is a wanted serial-killer who drains the blood of his victims to supply Abby, who is actually an ancient vampire.
Information courtesy of imdb.com
More scripts, horror and otherwise, on the Movie Scripts page.