Wheel of An Hero – How to make the most genius film by mistake. - post author Don
Simon Cathcart (writer and director of the wonderfully campy StagKnight has a new book out.
Wheel of An Hero – How to make the most genius film by mistake.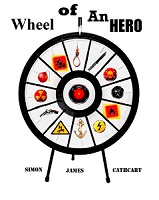 Felix James had been living in an underground, airtight cell, in total isolation, for twenty five years. And all Max Gutman needed was $25 million to finance his feature film. But Max had to prove he could do it. Maybe shooting his first short film in a care home for people with severe learning difficulties wasn't such a great idea. Until he met Felix James. Felix James had a rare terminal illness. Felix also had an idea for a show. A show that could easily make $25 million.
Journey to centre of the world's first crowdfunded suicide machine as it rips through California taking out waitresses, cage fighters, hookers, journalists, gardeners, fundamentalists and hundreds more all playing this astounding game of monumental idiot savagery.
Film is the only art form which requires a lot of money to make it. A musician only needs an instrument, a painter paint, said Orson Welles. Having made films himself this subject was an obvious piece for Simon James Cathcart to reflect upon. Raising millions for any venture is not an easy task, ever. Today, the film industry has stalled in a state of sad confusion. It wrestles with the rise of the internet, remaining at all odds with it; rather than joining it. Media is now everywhere and everyone a walking filmmaker. Entertainment is now abundant – time short. Combine this with the advent of crowd-funding.
Wheel of An Hero enabled me to push the hidden pressures a director suffers from and a film crew in motion while the wheels are coming off.It enabled me to explore the archetypal situations, characters and places I'd been in with the possibilities of being over funded, coupled with the relentless demands of a largely desensitized youth market watching live and I was able to take it to levels I'd never even anticipated.
Read the first chapter on WattPad or buy the book on Amazon.