Toy Story 3 screenplay and the beginning of "For Your Consideration" season - post author Don
Thanks to "Ralph" over on the Discussion Boards for the heads up on this script.
Award season is fast upon up and studios are heavily promoting their movies, including posting the screenplays for award consideration. First up: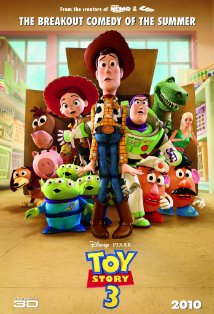 Toy Story 3 – Undated, Unspecified draft script by Michael Arndt (Story by John Lasseter, Andrew Stanton, Lee Unkrich) – hosted by: Disney Awards 2010 – in pdf format
The toys are mistakenly delivered to a day-care center instead of the attic right before Andy leaves for college, and it's up to Woody to convince the other toys that they weren't abandoned and to return home.
Information courtesy of imdb.com
And, of course there are more scripts to read on the Movie Scripts page.