Buried screenplay by Chris Sparling - post author Don
I got an awesome email from Chris Sparling, screenwriter of Buried.
With the film I wrote, BURIED, now out in theaters, I felt the time was right to finally release the production draft of the script (the previous draft that appeared online — after being leaked by someone — was an early draft).

This time around, I figured I'd preempt the leak by releasing the script myself 🙂

Congrats on running such a great, informative site for writers.
–Chris Sparling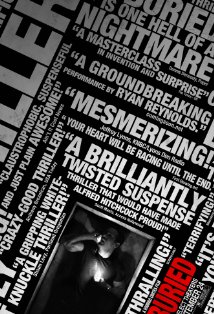 Buried – July 25, 2009 production draft script by Chris Sparling – hosted by: SimplyScripts – in pdf format
Paul is a U.S. contractor working in Iraq. After an attack by a group of Iraqis he wakes to find he is buried alive inside a coffin. With only a lighter and a cell phone it's a race against time to escape this claustrophobic death trap.
Information courtesy of imdb.com