Introducing ScriptCrawler Coverage - post author Don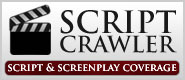 ScriptCrawler Coverage is an affordable alternative to most coverage services. ScriptCrawler is not run by a large corporate entity: instead, the gap between you and your analyst is narrowed, providing a more personal development process.
ScriptCrawler's readers work for "Big Three" agencies like ICM and CAA, as well as major studios and production companies. They know what it takes to get a script in shape for Hollywood, and are aware of current trends and sales. Best of all, while other services take up to four weeks to return your coverage, ScriptCrawler turns it around in 7 days or less, with the option of a 48-hour Rush turnaround. Agents and executives expect that their coverage be accurate, insightful and delivered on time: why shouldn't you expect the same?
As a special offer for SimplyScripts visitors, you can get 5% off all purchases using the coupon code simplyscripts38902. There is no use limit on the coupon code, so you can use it over and over again. – Don