Hunting Humans - post author Don
This 'just' in from Kevin of Kangas Kahn Films.
Hey, recently noticed you linked to my script for Fear of Clowns –very cool! Thought you might like the link to my first produced screenplay, "Hunting Humans", from MTI Home Video…
[S]ome serial killer was caught with a copy [of Hunting Humans] in his dvd player like a year ago, which is flattering yet creepy…Dateline and
Nightline (page 3) both featured the flick in their stories.
-K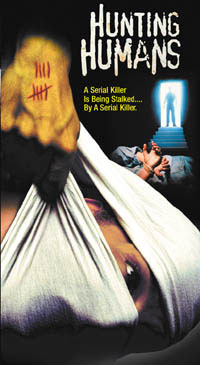 Hunting Humans – 1999 unspecified draft script by Kevin Kangas – hosted by: Kangas Kahn Films – in html format
Meet Aric Blue. He's young. He's handsome. He's successful. He's also a serial killer. He picks his victims at random, stalking them and taking advantage of the patterns in their life to kill them. He's the ultimate serial killer. But when he finds his next victim already dead, a note on the body reading: "I'VE GOT YOUR PATTERN", Aric realizes he's being stalked by a serial killer every bit his equal. When two serial killers wage war, the rules are simple: Don't Get In The Way.
Information courtesy of imdb.com
Read it and other on the Movie Scripts page. – Don