Moneyball - post author Don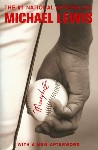 Just got back from visiting Mystery Man On Film's blog. Great write up of development hell for Moneyball.
"Moneyball was in development a few years and championed by Columbia Pictures co-chair cutie Amy Pascal. It's an adaptation of a popular book by Michael Lewis."
"Whispering lips say the studio spent roughly $10 million to get this project off the ground. Steven Zaillian wrote a script. Everybody loved it. Soderbergh came onboard. Brad Pitt came onboard. The budget ballooned to around $57 million, which is quite risky. Baseball movies can be hit and miss…" Read the rest at Mystery Man on Film
Moneyball is the story of Oakland A's general manager Billy Beane successful attempt to put together a baseball club on a budget, by employing computer-generated analysis to draft his players.
You can follow the progress on the Moneyball twitter page. There are two drafts of the script floating around. There is the Steven Zaillian December 1, 2008 2nd draft (pdf format) and there is the Steven Zaillian, revised by Steven Soderbergh June 22, 2009 revised draft (also pdf foramt). Thanks to Pursue The Passion.com – Don