Coen latest? and The Ruins script - post author Don
Thanks to "anonymous zer0" and Horror Lair you can read this January, 2007 draft of The Ruins. A horror flick wherein people go see ruins and bad things happen.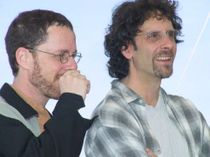 thanks to Aaron from the discussion board for the heads up on what may be the Coen Brothers latest A Serious Man which, according to Coenesque just wrapped filming.
Links to those and more are over on the Movie Scripts page. – Don