Miracle at St. Anna script - post author Don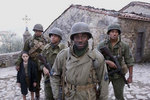 Thanks to Vern for the heads up on the brilliant script to Spike Lee's upcoming Miracle at St. Anna by the prolific writer James McBride.
Miracle at St. Anna chronicles the story of four black American soldiers who are members of the all-black 92nd "Buffalo Soldier" Division stationed in Tuscany, Italy during World War II. They experience the tragedy and triumph of the war as they find themselves trapped behind enemy lines and separated from their unit after one of them risks his life to save an Italian boy.
You can catch a first look at blackfilm.com. Also, FirstShowing.net has an excellent write up on the film.
A link to the script and other movie scripts can be found on the Movie Scripts page. – Don