Another Masters of Horror DVD giveaway - post author Don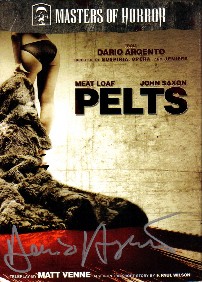 Anchor bay has given SimplyScripts a DVD of Dario Argento's directed Masters of Horror episode Pelts signed by the director Dario Argento. If you live in North America, you are eligible to win this signed dvd. Just put in your name and valid email address below and hit submit. Come back on November 13th to see if you've won. Note: one entry per person. All duplicate entries will be deleted.
The Giveaway is closed. Come back to SimplyScriptson November 13th to see if you are a winner!
Thank you for entering our "Masters of Horror" contest!!!
And make sure to return to our site to see if you were one of the randomly chosen winners