Stranger Things – Episode 01: Sacred Cow script - post author Don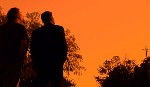 Two priests uncover the horrifying truth about the nature of prayers.
And thus begins the premier of the video podcast series Stranger Things with Episode 1 Sacred Cow.
Stranger Things is a science fiction anthology video podcast created by Earl Newton. I am extremely honored that Earl has allowed me to feature the screenplay (pdf format) to the premier episode of Stranger Things – Sacred Cow here in Simply Scripts. This second draft script, which you can read here, also contains additional director's notes about the evolution of the script from the page to the screen. This is a valuable resource for not only writers, but also folks looking to direct.
Sacred Cow was written by Earl Newton, based on an original story by Scott Sigler.
In addition to reading the script, you can view the video podcast of Sacred Cow on your computer. You can also subscribe to the Stranger Things podcast via iTunes, however if you don't have a video iPod, you can still view each episode (as well as Earl's engaging video updates) at StrangerThings.tv.
If you enjoy The Twilight Zone or The Outer Limits or the recent short-lived anthology Masters of Science Fiction, then you will be quite at home with StrangerThings.tv. The writing, the acting and the production quality are top notch and on par with anything you are going to see on television today. This is, to my knowledge, the only video podcast you can watch in High Definition. This ain't a blurry youtube vid. – Don