Scripts for the One Week Challenge are live! - post author Don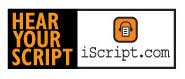 Time to get reading. The scripts for the One Week Challenge in which writers were asked to write a thriller in a week on the topic of this boat. The entries are in. Check out the scripts and talk about 'em on the discussion board.
This month's One Week Challenge is sponsored by:
iScript.com – They turn scripts into mp3s! You upload a script – they record it using professional readers and picky sound editors – you download your iScript! Burn CDs, listen on your iPod, submit it to execs, producers, agents. Now people can hear your script while driving, jogging or relaxing.