Idiocracy DVD to be relased Jan 9 - post author Don
---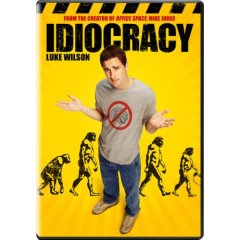 The newest Mike Judge comedy (Mike Judge is one of the creative minds behind Beavis and Butt-Head, King of the Hill and Office Space), Idiocracy will be available on DVD January 9th.
This film was buried by Fox who only released the film theatrically in very few cities. The film is about Private Joe Bowers, the definition of "average American", selected by the Pentagon to be the guinea pig for a top-secret hibernation program. Forgotten, he awakes 500 years in the future. He discovers a society so incredibly dumbed-down that he's easily the most intelligent person alive.
There is an excellent script review over at The Deadbolt. I know this script was on the 'net back in September. However, the links no longer work. If anyone has seen it on the 'net, let me know where it is.
Update: Thanks "IS"
Dude,
Here is the link to the idiocracy script
http://ez-files.net/download.php?file=52ae99585686d18d60825b9063d99a2d
Peace