Silent Universe - post author Don
A bit ago I mentioned Silent Universe on the Radio Scripts page and posted a rough draft (with permission) of episode three. Now, the broadcast of Episode 3 of Silent Universe is out. If you've listened to the first two episodes, by all means, head on over to Episode 3. If you are new to the series or "Sci Fi Curious", listen to the all the episodes in order.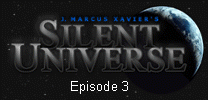 Silent Universe: Episode 3 Counterpoint – script- from: J. Marcus Xavier's Silent Universe
Emmeline meets up again with Jack. She is tortured by the Chi Coms.
Listen to the episode (mp3)
Information courtesy of Silent Universe