Silent Universe Sci Fi Radio Drama - post author Don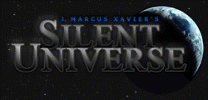 Update on the Radio Scripts page – All three scripts to the first three episodes of Silent Universe are now available.
I grew up listening to rebroadcasts of Superman, The Shadow and Green Hornet from the Golden Age of Radio. Later, radio adaptations of Star Wars and The Hitchhiker's Guide to the Galaxy came out and were much enjoyed. The folks over at Silent Universe have brought back the good old days of Radio with a modern twist.
Silent Universe follows the adventures of Emmeline Kaley, a professional mercenary who finds herself involved with a covert organization after a paying job goes horribly wrong. Teamed with a motley cast of characters including a weapons specialists, a computer hacker, an ex-mercenary and even a casino tycoon, Emmeline Kaley is forced to go to extreme lengths to prevent tragedy from striking the solar system. With a style of drama that mixes elements of 24 and the new Battlestar Galactica, each episode of the Silent Universe reveals layers of suspense and intrigue that leaves audiences guessing at what twists its plot will take next.
Fans of OTR should give Silent Universe a try. Head on over to the Radio page and take a look at the production scripts for the first three episodes of Silent Universe and give episodes one and two a listen. I'm sure you will not be dissappointed. – Don