Unproduced Scripts, Writing Contests and Winged Men - post author Don
---
On the unproduced scripts page there are six new scripts up for your reading pleasure. There are a few horror scripts, a few shorts and the pilot for a series.
The early bird deadline for the upcoming Gimme Credit short screenplay competition is September 7th. Write Movies' standard deadline for The International Fall 2006 Writing Contest is October 1st. So, get writing. More info onthese contest can be found on the announcements page.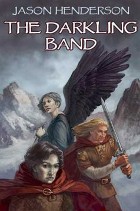 My friend, Jason Henderson, who has produced comics such as Sword of Dracula, and the graphic novel Soulcatcher, co-written Tokyopop manga series Psy-Comm and written and designed for several hit computer games, including Command & Conquer: Red Alert 2 as well as being a chronic under achiever, has a new book coming out in October.
In The Darkling Band, two best friends in 13th-Century Germany set out across towns, tundra and mountains to find one of the friend?s two sisters, who have been kidnapped by a raiding party of winged men locked in a war with the exploding human population.
The Darkling Band can be preordered through Amazon.com or Dragon Moon Press.