Thunderheart and Alone In The Dark Script - post author Don
---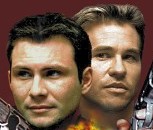 No, the script for "Run For The Money" isn't online. Just wanted to have a pic with both Val and Christian.
Over on the Movie Scripts and Screenplays we can thank Just A Guy in Hollywood for his part in bringing this August 19, 2003 double cherry revision(!) draft script of Alone In The Dark to light. This was filmed with Christian Slater and Tara Reid (as a genius anthropologist no less). John Fallon of Arrow In The Head fame had a bit part in the movie and did a write-up of his experiences on the set.
Thanks to The Weekly Script there is a text version of Thunderheart that first appeared over at Val Kilmer Newsletter in pdf format. Read these and more on the Movie Scripts and Screenplays page.