Eleventh Hour Teleplay and Lost Pilot Script - post author Don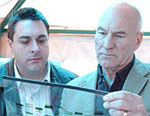 A couple of nice items on the TV Scripts page. Thanks to Joseph for the heads up and Sci Fi Scripts and "k-1.c-1." there is an early draft of a new UK Television show Eleventh Hour. Eleventh Hour stars Patrick Steward as Professor Ian Hood who is called in by the British government to tackle disasters caused by modern science.
Thanks to The Hatch we can read an unspecified, undated draft of the pilot episode of Lost. For those of you in the states, new episode of Lost on tonight.
So, two new scripts on the TV Scripts Page.
Also, the one week challenge/excercise thing is underway. This month's theme is "Why is everyone always shooting at me?". The genre: comedy. Write a script no longer than 15 pages. This is open to anyone. Get your submission over to me by Friday, April 14, 2006 before 11:59 pm in your respective timezone. You can get a little more info on the discussion board.