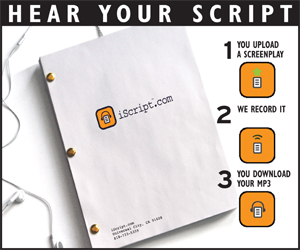 The
October One Week Challenge
is coming!
For those of you unfamiliar with the One Week Challenge, it's an excercise to see how well you work under pressure. Imagine of a director came up to you and asked you to write a short script based upon an idea that he/she has and you have one week to write it. Could you do it? Of course you can.
On Friday, October 12th at 11:59 pm edt the Theme and Genre will be announced.
Write a 6 to 12 page script, in proper screenplay format on the Theme and Genre stated above. The script must be received by
Friday, October 19th, 2012 at 11:59 pm Eastern Daylight Time
.
This is completely
Free
to enter. This is only an exercise. There are no prizes. There are no winners (after all, we all win if we have fun). There will not be an official judging for the best script (after all, we all win if we have fun). One script will be selected to be audio performed by
iScript.com
.
Confused? Questions? Statements? Ask them on the
OWC Discussion Board
.
Don
Webmaster
SimplyScripts.com