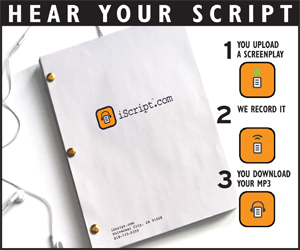 The
Simply Scripts One Week Challenge
is coming
The
One Week Challenge
is a
Free
exercise where you will have
one week
to write a
script
(properly formatted)
12 pages or less
(courier 12 point font) on the selected
theme and genre to be revealed on Friday, October 9th at 10:00 pm e.d.t.
.
The script must be received by Friday, October 16th at 11:59 pm e.d.t..
Please
do not put your real name on your script
, however, please use your real name and real e-mail address on the submission form (After the exercise closes you can either have your script removed or resubmit the script with your name on it). Please put "(c) Copyright 2009" on your script.
No gambling! No running with scissors. This is completely Free to enter.
This is only an exercise. There is no prize for winning (after all, we all win if we have fun). There will not be an official judging for the best script (after all, we all win if we have fun). All submitted scripts will be posted anonymously for a week before the writers are revealed.
Please visit
the discussion board
for an idea of what is going to happen.
The Schedule:
October 9th 10:00 pm edt - theme and genre revealed
October 16th 11:59 pm edt - submissions due
October 17 - 20 - scripts posted without author's names
October 20 - October 26th - review, critique, comment, guess who wrote what
October 27th - authors are revealed.
Additionally, I'm in talks with
iScript.com
to see if they are willing to audio produce one selected script.
So, stop by on October 9th at 10:00 pm edt to find out what the genre and theme are! - Don