In this episode -
The One Week Challenge Selectee
and S
oulShadows II anthology series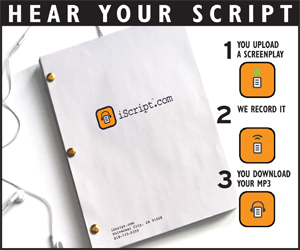 Of Sound Mind
by
Cameron Mitchell
Read by:
iScript.com
As you all know, in early April we had the
April One Week Challenge
wherein participants were asked to write a 12 page dramatic script about a secret revealed at a family picnic . We had 33 entries. The fine folks over at
iScript.com
were kind enough to select one script out of the group to be recorded.
The selected script is
Of Sound Mind
by
Cameron Mitchell
.
The wealthy Hogarth clan ga thers for a picnic in the woods, to be followed by a reading of the patriarch's will. The family will never be the same.
You can read along with the pdf version of the script
here
. You can discuss this script and all the OWC entries
here
. You can listen to the script
Here
Thanks to everyone who participated in the
April One Week Challenge
.
Very special thanks to
iScript.com
for sponsoring the challenge and judging the final scripts.
++++++++++++++++++++++++++++++++

Soulshadows II
is a weekly supernatural anthology series. Join Tanis, each week, as she highlights an item from her collection - each one containing the shadow of a very special soul.
First up is
For Sentimental Reasons
by
Mike Shelton
, Tanis by: Robert Newcomer.
Charlie Averitt's accomplishment of riding every major Ferris Wheel in the world is put on hold when a stranger reveals that he still has one more to go... the Wheel at Prypiat, near Chernobyl. With pride and his most prized possession on the line, Charlie sets out to take what may very well be his last ride.
31 pages (pdf format).
Rated R for language.
Listen to the Script