C.A.R.L. – Short Script Review (Available for Production) - post author wonkavite
---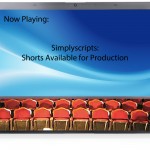 An elderly man needs someone to watch over him. The caregiver that comes to his door is not exactly what he had in mind.
There's nothing like the companionship of a dog. Loyal and affectionate, dogs are furry bundles of love that come in all shapes and sizes: both in real life and on-screen. Benji. Hooch. Old Yeller. Marley and Me. Rin Tin Tin. And speaking of German Shepherds, a rather special one features in C.A.R.L.:
At eighty years old, cantankerous Frank has seen better days. Following his last hospitalization, Frank's son puts it on the line. He's going to need a live-in assistant. It's either that, or the home. A few days later, a German Shepherd arrives on Frank's doorstep. Alone. He introduces himself as C.A.R.L., and walks inside. Yes, you read that right. A talking dog.
You see, C.A.R.L.'s not your average canine. He's a Complex Artificial Realistic Lifeform. Top of the line AI, wrapped in fur. Despite the gadgetry, Frank's not thrilled. His frustration increases as C.A.R.L. follows him around the house, shooting down each of his objections (and following him into the bathroom.) He doesn't need walkies. Or food. Give him access to the toilet bowl, and he's fine. Frank resists – he doesn't need a nursemaid! But those soulful eyes stare back at him. Will Frank give in to the inevitable, and find a true companion after all?
Though it has a science fiction element, C.A.R.L. is really comedic drama: a short script depicting the meeting of two new best friends…
About the writer: Tim Westland, co-writer of the acclaimed graphic novel Chasing the Dead, received first place for Balls Out in the NNYM 15 page contest. A moderator at Moviepoet, he's an outstanding writer with an eye for the details. His IMDB page can be found here.
Pages: 6
Budget: Really depends on how you tackle this one. There's no reason C.A.R.L.'s speech can't be handled with voiceover – making the only requirement a well trained German Shepherd. (Which describes all GSDs, doesn't it?) 🙂
READ THE SCRIPT HERE – AND DON'T FORGET TO COMMENT!!
FOR YET MORE SCRIPTS AVAILABLE FOR PRODUCTION:
PLEASE SEARCH SIMPLYSCRIPTS.COM
OR THE BLOG VERSION OF STS HERE.
All screenplays are copyrighted to their respective authors. All rights reserved. The screenplays may not be used without the expressed written permission of the author.