Sex and Violins – Short Script Review (Available for Production) - posted by wonkavite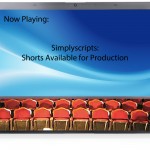 A young woman has difficulty finding love because of her unusual fondness for the violin.
It can be hard to write a love story… It's been done so many times, in so many ways.* Romeo and Juliet. When Harry Met Sally. Titanic. Pretty Woman. The Notebook. Ghost. The list goes on. How to make such a time worn concept still seem fresh? Well, sometimes to pays to just it simple and sweet – with just a touch of kinkiness.
Jackie – the heroine of Sex and Violins – isn't faring well in the dating game. When the script opens, she's just been dumped… via Post-It note stuck to her forehead. You see, she's got a few strange, um, habits that seem to drive men away. At the office, her best friend Bette tries to set her up with Tom. Jackie's worried: if Tom finds out her dark secret, it'll be game over once again. Despite her misgivings, Jackie agrees to go on a date. After all, Tom's a cutie. Needless to say, the date doesn't go as planned. But is that a bad or good thing?
Written with a gentle – and slightly twisted – sense of humor, Sex and Violins has tons of memorable lines. (For instance, Jackie telling Bette about getting dumped: He didn't even tell you to your face? No. He left me a note.). A little gem, S&V offers everything a comedy director could wish for. Empathetic characters, a touch of sex… and a fresh twist to the age-old tale of love.
About the writer: David M Troop resumed writing in 2011 after a twenty-five year hiatus.  Since then, he has written about 50 short scripts, two of which have been produced.   Dave would like to make it three.  He is a regular, award-winning contributor to MoviePoet.com.  Born on the mean streets of Reading, PA, Dave now resides in Schuylkill Haven with his wife Jodi and their two lazy dogs Max and Mattie.
Pages: 8
Budget: Reasonable. Two main characters (and a few supporting ones), coupled with a handful of settings. Nothing exotic; just a bedroom, office, restaurant and a room with a stage…
* Folks, get your minds out of the gutter. We're talkin' love stories, not sex scenes! Well… mostly anyway.
READ THE SCRIPT HERE – AND DON'T FORGET TO COMMENT!!
FOR YET MORE SCRIPTS AVAILABLE FOR PRODUCTION:
PLEASE SEARCH SIMPLYSCRIPTS.COM
OR THE BLOG VERSION OF STS HERE.
All screenplays are copyrighted to their respective authors. All rights reserved. The screenplays may not be used without the expressed written permission of the author.