O-Beast – Feature Length Bonus Script Review (Available for Production) - posted by wonkavite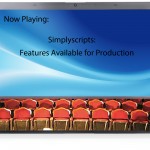 O-Beast
A chubby teen is nearly killed in a bullying incident… imbued with supernatural powers, her fat terrorizes the town for revenge
Horror movies just seem so dull these days. Don't get us wrong: exorcisms, hauntings and found footage slashers… all these sub-genres have their place. But when compared to horror in the Eighties? Something just seems – missing. Movies such as Reanimator, Evil Dead, Chucky, The Stuff. Such films could never be called high art. But they were creative, colorful and weirdly fun. And isn't that what we go to movies for?
Fortunately, some horror writers haven't forgotten the good old days. Case in point: the horror-satire O-Beast.
Written as an homage to the Eighties (kind of like Scary Movie on steroids), O-Beast is gleefully crazy, and stuffed with intentional cliches. The class slut, the mean jock and his clique. Then there's the downtrodden fat chick everyone makes fun of. Her name: Monica Bomer. Or as everyone calls her: The Bomer. Three hundred pounds. Riddled with acne and despair. Except for her camp counselor (Native American Chief Hokem Runningwater), Monica has absolutely no friends. But then she runs into Paul, the mysterious – yet cool – new kid at school. Things are finally looking up. Until a bullying incident with the jock sends Monica plummeting off an overpass. The height's enough to kill normal people. Fortunately, Monica's protected by layers of blubber – which explode out of her on impact. She's left in a coma – but alive.
As for the fat? The local cops leave that on the side of the road, for the vultures. Since the jock's the Mayor's son, the case is instantly closed. But is really over?
Especially when the fat starts to merge. It takes on a life of its own – seeking disgusting, vile revenge.
With each victim, the fat grows. Soon it reaches epic proportions; wreaking havoc on everything from a Camero to a Ferris Wheel. (Seriously.) The whole town's in peril. Only Paul can stop the horror – aided by the powers of Chief Runningwater. Can the Fat be stopped, and Monica saved?
Streamlined and just under 80 pages, O-Beast is a breeze to read. Chock full of Eighties in-jokes and tongue in cheek humor, O-Beast feels like the bastard child of The Blob and Toxie the Avenger… with laugh-out loud moments.
And the effects are do-able. (You'll need some CG or buckets of toy Slime to make it work.) But if you're an indie horror director looking for something REAL different, O'Beast is your girl. She's hefty and weird. But tons of fun.
About the writer, Rod Thompson: Rod Thompson is an award winning screenwriter of both features and shorts. His feature, "The Squire" won Best Drama for the 2014 Table Read My Screenplay contest, and he has placed numerous times for his shorts at MoviePoet.com. His short scripts "Gimme Shelter" and "A Memory in Winter" have both been optioned through their exposure on SimplyScripts.com's "Shootin' The Shorts." He is also "the most humble man alive."
Pages: 79
Budget: Throw in a bunch of teens, CG and you're fine.
READ THE SCRIPT HERE – AND DON'T FORGET TO COMMENT!!
FOR YET MORE SCRIPTS AVAILABLE FOR PRODUCTION:
PLEASE SEARCH SIMPLYSCRIPTS.COM 
OR THE BLOG VERSION OF STS HERE.
All screenplays are copyrighted to their respective authors. All rights reserved. The screenplays may not be used without the expressed written permission of the author.