The Social Network script - post author Don
Thanks, Jeff for the double heads up.
Check out The Wisconsin Screenwriters Forum – a not-for-profit writers support group, organized to provide educational, networking, and marketing support for individuals interested in learning the craft and business of screenwriting. They also have a podcast.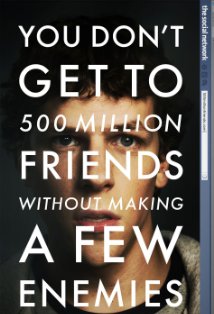 The Social Network – May 28, 2009 draft script by Aaron Sorkin – hosted by: Wisconsin Screenwriters Forum – in pdf format
On a fall night in 2003, Harvard undergrad and computer programming genius Mark Zuckerberg sits down at his computer and heatedly begins working on a new idea. In a fury of blogging and programming, what begins in his dorm room soon becomes a global social network and a revolution in communication.
Information courtesy of imdb.com